Since we started documenting new rents with the Tasmanian Rents publication in March 2012, the median rent in the South of Tasmania followed a clear annual pattern, which meant rents for new leases dropped in the June quarter, then slowly rose over September and December quarter and peaked in the March quarter.
2020 is different (in case anybody has not yet noticed!). The quarter change for the weighted median rent in the South is zero percent. It didn't decrease but it also hasn't increased. 
Two- and three-bedroom properties in the South increased by a meagre 1.3% and 2.3% respectively, while the rent price for larger properties did not increase at all. Rents for one-bedroom properties sank dramatically by 14%. Most strikingly both 2- and 3-bedroom properties in Hobart – the most expensive and populated Region in Tasmania – had 0% change compared to the December 2019 quarter.
It is safe to assume, that the COVID-19 pandemic had little to no impact on this quarter. It could be, that the significant increases that the South of Tasmania has seen over the past 3 years have reached their peak for now. It is relatively safe to say, they will not increase in the next quarter.
Meanwhile the weighted median rent went up by 3.9% in the North and 1.4% in the North West, mainly driven by increases in 3-bedroom properties.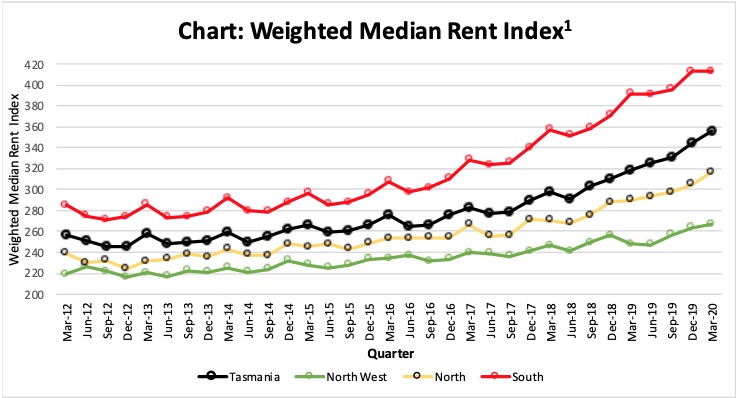 Find Tasmanian Rents March Quarter 2020 here.