Welcome to the latest issue of Tasmanian Rents.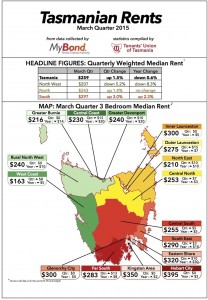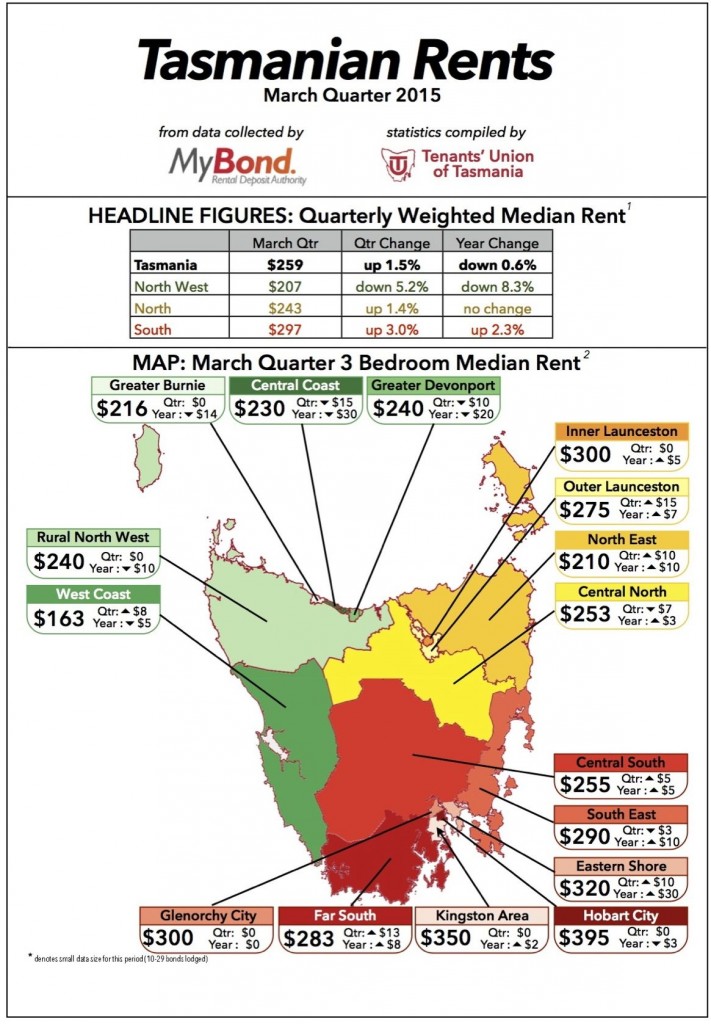 Every quarter the Tenants' Union publishes rent statistics compiled from Bond Lodgement Forms collected by the Rental Deposit Authority. The data is based on information provided by both the landlord and tenant when lodging a bond with the Rental Deposit Authority.
This issue includes statistics from the first quarter of 2018. We compare the weighted median rents of Tasmania's three geographical regions, which are rents that comprise all property sizes, with their equivalents from the previous quarter and the same quarter of the previous year.  In more detailed overviews, you will find median rents for different property sizes (1 bedroom, 2 bedroom etc) in particular regional areas and their growth since 2016.
Download the current issue here: Tasmanian Rents March 2018

Comment: Rents in Southern Tasmania continued their rise with the latest quarter registering a 5% increase.  The March quarter usually sees a seasonal increase, but the figure of 5% exceeds the usual seasonal effect.  The median rent for a 3 bedroom property in Southern Tasmania is now $380, $80 per week more than Northern Tasmania and $115 per week more than the North West.
Rents in Northern Tasmania were quite steady, decreasing by 0.1% in the March quarter, while North West Tasmania had a 2.3% increase.
Also, we have introduced a new series of rent statistics in this quarter to measure rents in the three major urban areas: North West Coast (covering the coast from Cooee to East Devonport, plus Latrobe), Greater Launceston and Greater Hobart.  Rents in Greater Hobart rose by 3.8% in the quarter, 3.7% on the North West Coast, and Greater Launceston saw a fall of 0.7%
Previous issues:
Tasmanian Rents September 2017
Tasmanian Rents September 2016
Tasmanian Rents September 2015
Disclaimer:
The Rental Deposit Authority and Tenants' Union of Tasmania give no warranty regarding the data's accuracy, completeness, currency or suitability for any particular purpose; and do not accept liability howsoever arising, including but not limited to negligence for any loss resulting from the use of or reliance upon the data.