Rents fell by 2.5% in Tasmania in the last financial year according to data collected by the Tenants' Union on our advice line.  This is the first fall since comprehensive statistics began to be collected by the Tenants' Union in 2006.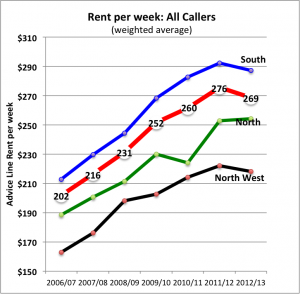 The figures, which are a weighted average of rent, show that rents fell slightly in the South and North West regions, while they rose slightly in the Northern region.
The fall is welcome relief for Tasmanian residential tenants who have experienced relentless rent increases, far in excess of inflation, since the turn of the millennium.
More statistics will be available in the Annual Report which is released at the Tenants' Union AGM on Monday 21st October.