The housing market is complex and a number of factors have contributed to Hobart's vacancy rate having decreased dramatically over the past few years. As a result, the city recently toppled Sydney as the least affordable capital city in Australia relative to income. 
Yet, there is now more than enough evidence to demonstrate that Airbnb has had a detrimental impact resulting in a significant loss of housing stock in Tasmania. A ban of Airbnb entire properties in Greater Hobart would almost certainly lead to hundreds of properties being returned to long-term tenants and reduced rental prices.  
Here is why: 
Between 2016-2018 there has been a 268% increase in entire properties in the Hobart Local Government Area (LGA) listed on Airbnb. 63% of those entire property listings in Greater Hobart are in the Hobart LGA despite only being home to 23% of resident population. 
At the same time, rental stock in Hobart LGA has decreased by 6.1% and in Greater Hobart by 2.8% and rents have increased by 15.9% in Southern Tasmania between 2016-2018.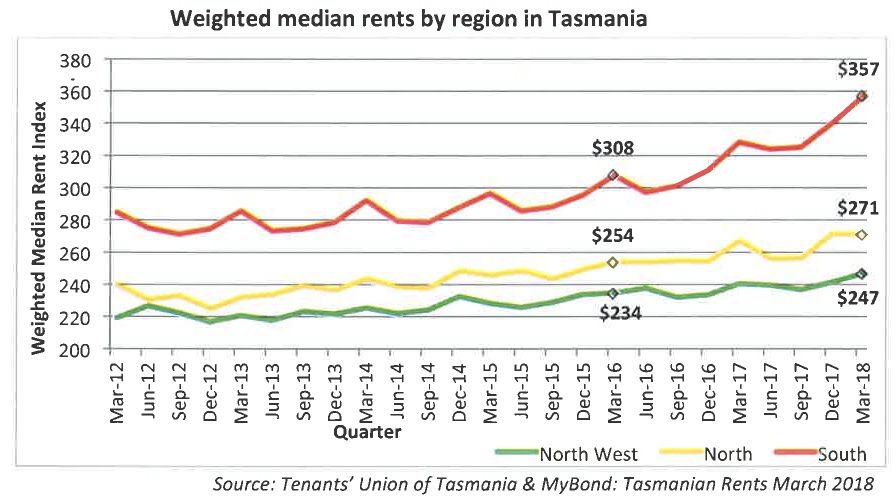 The University of Tasmania Institute for the Study of Social Change summarised: 
New housing stock has met the demand resulting from population growth, but has fallen well short of replacing housing stock lost to the short stay sector, explaining the declining in rental supply and vacancy rates in Greater Hobart over the period. 

In other words, demographic groups like migrants, students and even people from the mainland who want to participate in Hobart's new found hipsterness are not the problem. These renters might be more present in particular areas thereby accounting for the queues at open homes, but if it was not for Airbnb, enough new houses would have been built to accommodate all new arrivals – and then a few more. 
We therefore strongly recommend the following: 
The use of investment properties for short stay accommodation to be prohibited within the Greater Hobart area and other areas where the impact on the local community has been detrimental;

 

Hosts to be required to register their listings with the Government, and be permitted only one listing at any one time;

 

CBOS given the power to penalise providers, hosts or guests that do not comply with regulations, and/ or cause a nuisance to neighbours.

 
We do not need more data! The UTAS Institute for the Study of Social Change has clearly demonstrated the impact Airbnb is having on our housing market. 
Find the UTAS Institute for the Study of Social Change Tasmanian Housing Update 2018 here.